Ss Weaving Non Woven Fabric Production Line Machine
This polypropylene (PP) spunbonded non woven fabric production line has advantages of superior permance ,beautiful color and good quality.
Our production line is more reasonable in design and operation after practices for many years and improvements by our company.It can also add recycled material and stuffing to reduce the cost of products.
High processed products from PP spunbonded non woven fabric is widely used in suit cover, knitwear cover ,garderobe cover,table cloth,other products include pillow slip,bedspread,car cover,cover for quilt,computer,air conditioner and fan cover etc.It also used in suit clad and linning ,shoes lapping cloth,shoes bag,shoes cover etc.Besides,it can used in roadbed cloth,dykes and dams cloth,waterproof rolling fabric,covering cloth,car interior decoration cloth,filtering material,oil absorption material etc. And it is used in cloth sleeves,apron,sauna cloth etc. common purpose bags like shopping bag,gift bag,advertising bag,suit bag, quilt storage bag,samples handbag,ads
Port:Ningbo, China
Production Capacity:
4sets/Month
Payment Terms:
L/C, T/T, D/P, Western Union, Paypal, Money Gram
Application:
Non
woven Fabric
Automatic Grade:
Automatic
Certification:
CE, ISO9001: 2000
Customized:
Customized
Condition:
New
Transport Package:
Container
Model

YP-SS

Product width

1600mm

2400mm

3200mm

Machine size

29*13*10 m

30*14*10 m

32*15*10 m

Speed

350 m/min

350 m/min

350 m/min

Gram weight

10-180 g/m2

10-180 g/m2

10-180 g /min

Output(products according to 20 g/m2)

9-10 T/Days

13-14 T/Days

18-19 T/Days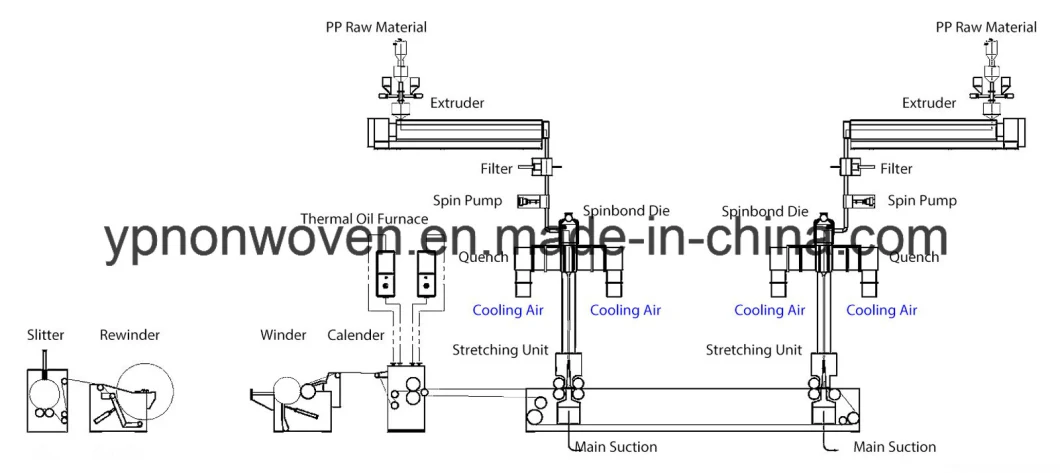 Web former
Used to supply carrier for the drawn fiber webs, including a drive system for web forming belt, a suction channel device, a sealing device, an automatic correcting device, belt tensioning device, a frame and a prepressing roller, oil furnace and web support roll.
Winder
Used for winding the webs on rolls. Including two plain rolls and two pneumatic rolls.