Ss Non Woven Fabric Machine Face Mask Equipment
Model

YP-SS

Product width

1600mm

2400mm

3200mm

Machine size

29*13*10 m

30*14*10 m

32*15*10 m

Speed

350 m/min

350 m/min

350 m/min

Gram weight

10-180 g/m2

10-180 g/m2

10-180 g /min

Output(products according to 20 g/m2)

9-10 T/Days

13-14 T/Days

18-19 T/Days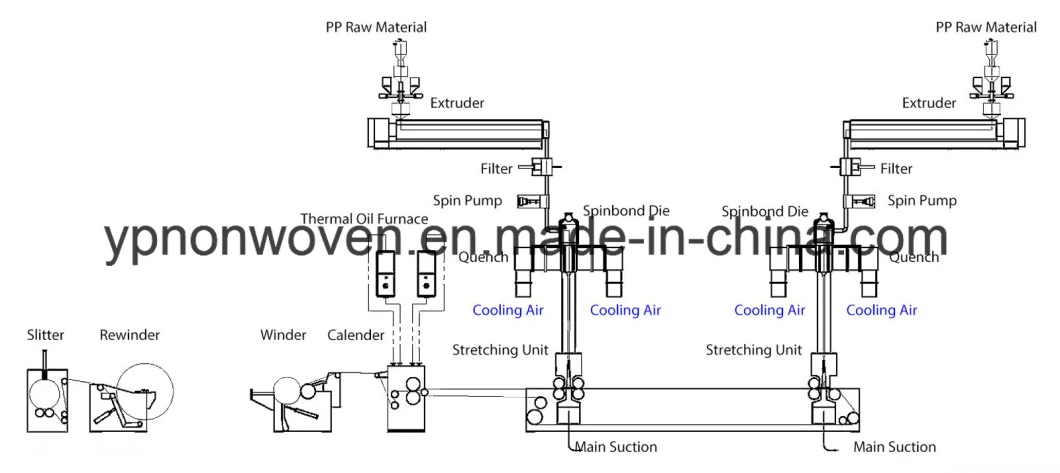 Nonwoven machine is used to produce nonwoven fabrics, fully automatic and convenient operation.Nonwoven machine can be customized according to customer needs.
Yanpeng PP double beams Nonwoven machines are designed and manufactured in accordance with individual customers requirements. Their possible area of application is correspondingly wide. Such as :package,hygiene,medical,furniture,technical,filtration.
Double beams nonwoven machine is usually used in the package and furniture, such as shopping bags or bed covers.
In addition, this nonwoven machine can produce non-woven fabrics of different colors, differen grams, different lines according to users'demand.

With polypropylene (PP) as raw material, non-woven material was obtained after many times of processing. Our materials have the characteristics of uniform surface, high strength, good air permeability and perfect handle. They are widely used in protective equipment, medical care, household appliances, fashionable shopping bags, industrial products, construction and other fields. We can customize machines 1.6-3.2 meters wide according to customer requirements.

Spunbonded Nonwoven fabric Mainly Applications

Nonwoven Packaging Products

Shopping bag, rice backaging, tea bag, clothes packaging, etc.

Nonwoven Hygiene Products

Baby and adult diapers: Top sheets, back sheets, ears, tapes, landing zone;
Female hygiene: Top sheets, wings;
Cleaning wipes: Baby care, cosmetics, etc.

Nonwoven Medical Products

Surgeon's Cap,surgeon's mask, disposable garments, surgical drapes, surgical sheet, shoe covers, etc.

Nonwoven Technical Products

Geotextiles:Erosion protection, filtration, reinforcement, drainage, separation layers, embankment fortification etc. for streets, dikes, and farms
Structural engineering:Bitumen supports, roof insulation sheeting, diaphragms
Agriculture: Crop forcing nonwovens, insect protection, etc.
Automotive:Inner paneling,sound insulation, insulation, etc.

Nonwoven Furniture Products

Beds:Pocket springs, mattresses, cushions, bed covers, disposal bedding
Seating: Upholstered backs, sub-paneling, intermediate layers, etc.
Spunmelt Composite Nonwoven Fabric Mainly Applications

Nonwoven Hygiene Products

Baby and adult diapers

Nonwoven Medical Products

Surgeon's mask, surgical drapes, etc.

Nonwoven Filtration Products

Gas, air, liquids(benzene, water, blood), etc.

Work Protection Products

Protecitve clothing, breathing masks.
Certificate
ISO9001, CE Certificate, SGS Certificate

Working process flow
Feeding→Extrusion Melting→filtering→metering→spinning→Cooling→Stretching
→Web spreading→Thermal bonding→slitting→collecting
About us
Zhejiang Yanpeng Non-woven Machinery Co.,Ltd is a professional non-woven production line manufacturer which engaged in development and production for many years.
The former of the company is Wenzhou Yanpeng non-woven technology Co.,Ltd.
Our company has focused on making non-woven production line since 2003, We can provide customized single S, double S three S spunbond non-woven production line,
SSMS, SMMS SMS spunmelt (spunbond & meltblown) production lines,and other PP,PET, BiCo spunbond production line to our customers.
Our company has already passed ISO9001:2010 international quality management system certification , standardization certification, CE certification, and we also have the right of import and export.