Nonwoven Equipment From China with Non Woven Fabric Production Line
(1) PP Double beams Nonwoven machine for making nonwoven fabric rolls.
This machine is polypropylene nonwoven fabric machine. Its raw material is polypropylene(PP), take the principle of spinning fibres, during polymer filature, continuous filament is extended into fiber, during which is finished by mechanical hot pressing.
latest Newly designed SS PP Yanpeng Double beams nonwoven machine

SS(Product width)

Equipment Size

Speed

Gram Weight

Yield (according to 20g/m

2

)

1600mm

29*13*10m




350m/min




10-150g/m

2

9-10T/Days

2400mm

30*14*10m

13-14T/Days

3200mm

32*15*10m

18-19T/ Days

The configuration of machines could be CUSTOMIZED as your needs!
(2)process flow:
Feeding→Extrusion Melting→filtering→metering→spinning→Cooling→Stretching
→Web spreading→Thermal bonding→slitting→collecting

Nonwoven machine is called nonwoven equipment or spunbonded nonwoven production line. Raw materials are blended, melted at high temperature, spinning, backlog, hot-pressed into cloth, winding and slitting into finished products. This is the main function and step of nonwovens production line. This machine includes feeding system, screw extrusion, filter, metering pump, spinning box, cooling system, drawing machine, etc.
Certifications: CE/ISO9001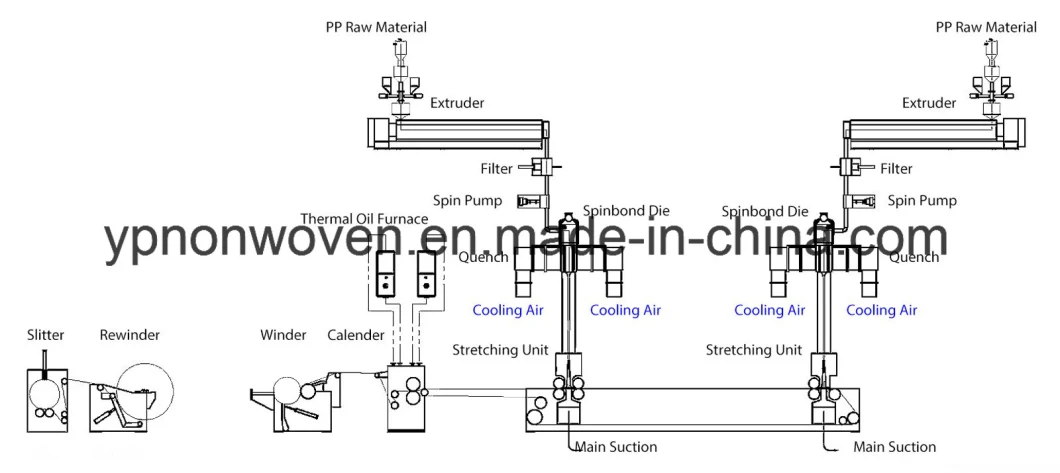 Yanpeng Nonwoven production lines are designed and manufactured in following applications.The application is correspondingly wide. Such as :
PACKAG :Shopping bag, Rice Packaging, Clothes packaging, etc.
HYGIENE:Baby and adult diapers, Female hygiene, etc.
MEDICAL:Surgeon's masks, Disposable garments, etc.
HOUSEHOLD:Suit Cover, Knitwear Cover, Garderobe Cover, Table Cloth Etc.
FILTRATION :Air, Gas, Liquids, etc.

Certificate
ISO9001, CE Certificate, SGS Certificate

Working process flow
Feeding→Extrusion Melting→filtering→metering→spinning→Cooling→Stretching
→Web spreading→Thermal bonding→slitting→collecting
About us
Zhejiang Yanpeng Non-woven Machinery Co.,Ltd is a professional non-woven production line manufacturer which engaged in development and production for many years.
The former of the company is Wenzhou Yanpeng non-woven technology Co.,Ltd.
Our company has focused on making non-woven production line since 2003, We can provide customized single S, double S three S spunbond non-woven production line,
SSMS, SMMS SMS spunmelt (spunbond & meltblown) production lines,and other PP,PET, BiCo spunbond production line to our customers.
Our company has already passed ISO9001:2010 international quality management system certification , standardization certification, CE certification, and we also have the right of import and export.