Flexo Carton Printing Machine with 150m/min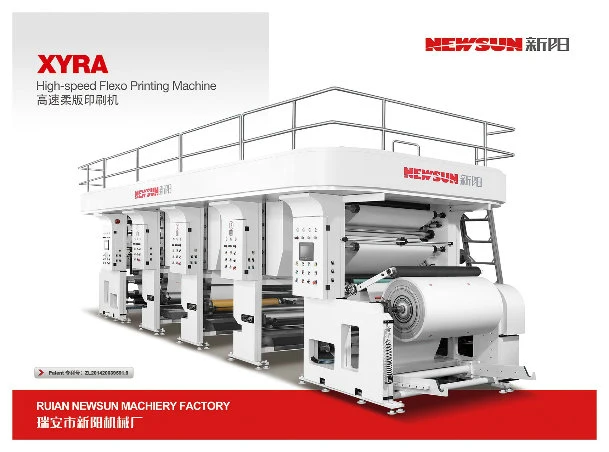 CHARACTERISTICS
1. The main motor adopts imported inverter to govern a stepples speed adjustment.
2. Feeding and rewinding are controlled through magnetic particle brake and clutch(Japanese Mitsubishi auto tension controller).
3.The automatic deviation correction device is used for the material feeding.
4.The ceramic anilox roller is used for the ink transfer.
5.The printing units are all equipped with a group of infrared dryers respectively.
6.UV dye device is used for the various printing units.
7.The shaft loading-unloading device is used for the material feeding and receiving.
8.The inking roller will be automatically off impression when press stop and rotate at lower speed in order to keep the ink from being drying.
9.The roll feeding, printing, UV vanish, auto infrared drying, laminating and rewinding can be processed in one pass. It has characterized by wide application, fast printing speed and high economic efficiency Ink will not contaminate environment. So it is an idea printing machine for the business form, Tag and high end pressure sensitive label.
| | | |
| --- | --- | --- |
| Model | XRY-320 | XRY-450 |
| Max. Web width | 320mm | 450mm |
| Max. printing width | 310mm | 440mm |
| Printing repeat | 175mm-355mm | 175mm-355mm |
| Color | 3~6 | 3~6 |
| Thickness of substrate | ±0.1mm | ±0.1mm |
| Machine speed | 10m-80m/min | 10m-80m/min |
| Max. unwind diameter | 600mm | 600mm |
| Max. Rewind diameter | 600mm | 600mm |
| Overall dimension(L×W×H) | 2000×1100×2600 | 2000×1300×2600 |
| Machine weight | 2200kg | 2500kg |
| | |
| --- | --- |
| Model | 450 |
| Printing speed | 90m/min |
| Printing color | 4colours |
| Max. width of paper | 480mm |
| Max .printing width | 450mm |
| Max. unwinding diameter | 600mm |
| Max. rewinding diameter | 600mm |
| Printing length | 175-355mm |
| Precision of chromatography | ±0.1mm |
| Dimensions | 2mX1.1m X2.2m |
| Machine weight | About 2800kg |